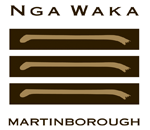 Terms & Conditions
ISSUES WITH ORDERS/CUSTOMER SERVICE
Please contact us via email sales@ngawaka.co.nz, Phone 0064 6 306 9832 or post to PO Box 128, Kitchener Street, Martinborough.
RETURNS POLICY
If you are not completely satisfied with the product, contact sales@ngawaka.co.nz. We will arrange to pick up the remaining unopened bottles as well as the bottle you are unhappy with. We will test the wines and, if faulty, will replace your order in full. Please note, this must be done within 30 days of the purchase date.
CREDIT CARD INFORMATION
"Nga Waka" will appear on cardholder statements for any credit card transactions made through this website. Your account will be charged in New Zealand dollars.
DELIVERY CHARGES
For deliveries within New Zealand, the cost of freight is included in the purchase price when six or more bottles are ordered. For orders less than six bottles the delivery charge is $7.50.
For deliveries outside of New Zealand please email us at sales@ngawaka.co.nz .
DELIVERY INFORMATION
All deliveries within New Zealand are by courier and direct to your door. The courier will require your signature upon delivery. If you are not home, the courier will leave a card requesting that you contact the courier office to arrange a suitable delivery time. We take no responsibility for loss of goods once delivered.
Any shortages or breakages must be reported to us within 24 hours, by email sales@ngawaka.co.nz and quoting your receipt number. Please Note: All goods are insured up until the point of delivery: until a signature is obtained.
LICENSING AND SUPPLY OF LIQUOR TO MINORS
Our licence to sell wine is granted via off-licence no. 44/OFF/015/2019 in the name of Canoe Wines Limited Partnership t/a Nga Waka which is valid until May 2022.
It is illegal for us to sell wine to you if you are under the age of 18. It is illegal for you to buy wine from us if you are under the age of 18 and it is illegal if you falsify your details in order to buy wine if you are under the age of 18.
GST
All prices are inclusive of GST