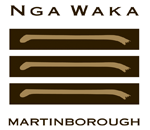 Nga Waka Cellar Door
Our temporary cellar door is closed for the winter. We will re-open in spring 2021.
In the meantime, tutored tastings are available by appointment. We can accommodate up to 8 people.
To book a tasting please email your details (including a phone number) to sales@ngawaka.co.nz
Booking fees may apply.
Construction of our new cellar door facility will begin in August 2021.