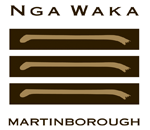 Nga Waka Cellar Door
Our temporary Cellar Door is now closed, and we are excited to announce that construction of our new cellar door facility is underway! This will open towards the end of 2022.
In the meantime, we are offering private tastings – a great way to get to know more about our wines, and wines from Martinborough, in an intimate and personal setting. The maximum number per group is 8.
To book a tasting please email the day and time you would like to visit plus a phone number to sales@ngawaka.co.nz . We will be in touch.
To order wine click here.